This page is the brochure for your selected program. You can view the provided information for this program on this page and click on the available buttons for additional options.

When you are ready to apply to a program, click the link on the upper left side of this page and follow the instructions.
Prague, Czech Republic
(Outgoing Program)
Featured
Experience / Activity Type:
Classes, Internship
Credit type:
LU credit
Minimum GPA:
2.0
Class Eligibility:
First Year, Junior, Senior, Sophomore
LU Program Director:
Hall, Jim (jah0@lehigh.edu)
Host:
Lehigh Program
LU Study Abroad Advisor:
Jodeen Gemmel
Exchange:
No
Global Engineering Consortium:
No
DATES
INFORMATION SESSION: TBD
APPLICATION DEADLINE:
December 8, 2017
PROGRAM DATES:
Thursday, May 24, 2018 - Saturday, June 23, 2018
*Please note that this will necessitate a May 23 departure from the US in order to arrive in Prague on May 24.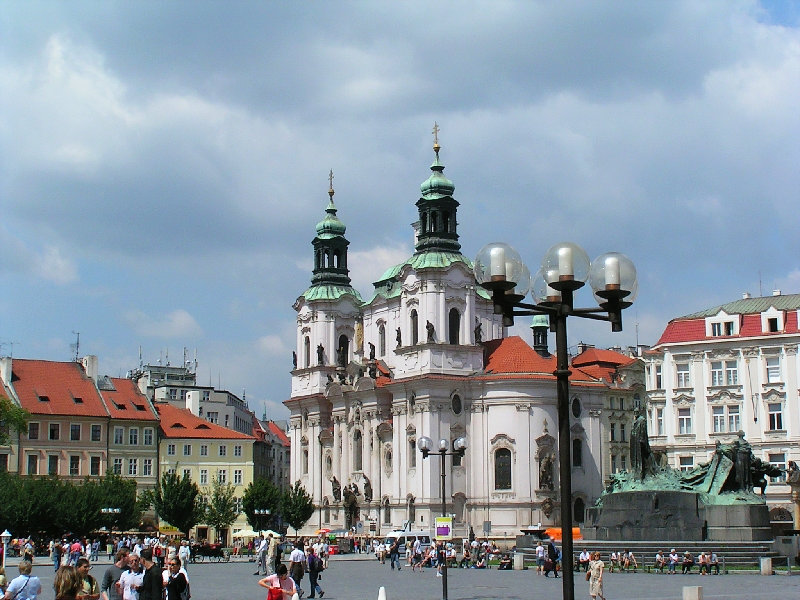 Application process:
1. Apply in Banner by the application deadline and email in the supplemental application materials (resume and internship statement), details of which are provided after the application is submitted.
2. The professors will review the applications over winter break and the program managers will be in touch with the applicants to schedule their interviews after winter break.
3. Applicants interview with the professors in the last week of January and the first week of February.
4. Students receive notification about their acceptance during the first and second week of February.
5. Classes start mid-February for the 3 courses.
PROGRAM FEE
SUMMER 2018 FEES
$6,700 (tentative) - This includes tuition for six credits, double occupancy room for the nights of the program and breakfast. The program cost also includes the use of the Komenskeho Kolej facilities and group activities. Not included are airfare, local travel, meals other than breakfast, laundry, personal expenses, personal weekend travel or other costs such as extra nights lodging and meals due to unforeseen events.
FUNDING
A limited number of $500-$1,500 need-based scholarships are also available. Applications will be evaluated according to a student's financial need and an essay describing the possible significance of this experience to their academic and professional development. Deadlines are posted on the
Travel Grant Form
.
COURSES OFFERED
All coursework for Lehigh in Prague has a prerequisite of Economics 1. ALL students are required to take

CSB 314: International Practicum (3 credits)
& a choice of ONE of the following courses:

ECO 371: International Business in an Integrated Europe (3 credits) An analysis of the micro- and macro-economic, institution and political dimensions of various economic systems, with particular emphasis on former centrally planned economies in their transition to a market orientation. This course must also be paired with CSB 314.

CSE 252: Computers, the Internet and Society (3 credits) An interactive exploration of the current and future role of computers, the Internet, and related technologies in changing the standard of living, work environments, society and its ethical values. Privacy, security, depersonalization, responsibility, and professional ethics; the role of computer and internet technologies in changing education, business modalities, collaboration mechanisms, and everyday life. (SS) This course must also be paired with CSB 314.

ACCT 315: Intermediate Accounting (3) Intensive study of the basic concepts and principles of financial accounting, emphasizing the problems of fair presentation of an entity's financial position, operating results and cash flows. Understanding of the conceptual framework of accounting, review of the accounting process, and recognition, measurement, valuation and disclosure of current assets, fixed assets, and intangibles. Problem-solving skills and critical analysis are stressed. (SS) This course must also be paired with CSB 314. PLEASE NOTE that ACCT 315 starts meeting during the 2nd half of the Spring semester, for a total of 7 evening meetings prior to leaving the U.S. (Wednesday evenings from 6-9pm for the last 7 weeks of the semester). Students should plan their Spring coursework accordingly so that they take into consideration the extra courseload for that 2nd half of the semester.

All of the classes will meet together for the following three required orientations: There will be a class in February, March, and April. Dates below were last years. This information will be updated soon.
Wednesday, Feb. 22, 5:30pm
Wednesday, March 22, 5:30pm
Wednesday, April 26, 5:30pm
TRAVEL & ACCOMMODATIONS
The students are responsible for booking their own travel arrangements. Students will be notified of the professors' flight information and are strongly encouraged to travel on the same flight as professors. Given that some students remain in Europe after the program, flight arrangements should be made as soon as possible. The cost of the flight is not included in the total program price. Our dormitory is run by Charles University (founded in 1348) and is located on a tram line that connects to the Metro, Prague's subway system. Historical sites, shopping streets, restaurants, theaters, concert halls and jazz clubs are conveniently available. Given the central location of Prague, weekend travel to other European destinations is possible by bus, rail, or discount airline. Komenskeho Kolej is a dormitory owned by Charles University, the oldest university in Central Europe founded in 1348. Double occupancy rooms, including breakfast, will be reserved for the nights of May 24, 2018 to June 22, 2018. Usually, two or three bedrooms share a bathroom and kitchenette (refrigerator but no stove). Linens are included. A laundromat is on the tramline and offers Lehigh students discounted prices. *For maximum flexibility, no additional meals are included in the package. Inexpensive (about $10 and up) meals are available in snack bars, pubs, "fast food" franchises and restaurants.
FACULTY
Professor Jim Hall (jah0@lehigh.edu) is the Peter E. Bennett Chair in Business and Economics and the Co-Director of the Computer Science and Business (CSB) program. He teaches accounting information systems, internal controls, and IT auditing.

Professor Sharon Kalafut (smk5@lehigh.edu) is a Professor of Practice in the Computer Science and Engineering Department. She teaches Java and C++ programming languages and is the teaching advisor for the CSB (Computer Science and Business) senior projects.

Professor Parveen Gupta (ppg0@lehigh.edu) is the William L. Clayton Distinguished Professor in the Accounting Department. He teaches Introduction to Financial Accounting, Introduction to Managerial Accounting, Intermediate Accounting I, Corporate Governance and Business Risk Management, Managing Physical and Financial Resources, and Managerial Accounting.

Professor Petr Balcar resides in Prague and has been helping with the Prague program on the ground since its inception 19 years ago. He has also taught summer courses here on Lehigh's campus.